When I was younger, I thought a lot about what I wanted my wedding to look like. Most of my inspiration probably came from Cinderella and the various rom-coms I was very much into at the time. Since that time, I have become a self-described feminist geek with a similarly-minded fiancé. I've also gotten older and with that change, my values and the things that I think are important have changed as well. Still it was hard to let go of the fairy-tale wedding as I began planning, but that may be more to do with the expectations of others than my own personal preferences.
This essay is an attempt at sharing what I, as a geeky feminist with a laid-back groom, chose to do for my wedding. And to share with all the geeky feminist brides that you have options. The great thing about being a bride in 2016 is that you can do whatever your heart desires!
Bucking Tradition
Last night, my fiance commented, "For someone who says she doesn't care about tradition, you sure spend a lot of time researching traditions." My retort was, "Well how can I buck tradition if I don't know what it is." He agreed, but also said, "Why don't you just do whatever the hell you want to do?"
I think we both make fair points and it goes to show how we think differently about the wedding. My fiance is about two things: get married and have fun. I'm far more caught up in the details because I want to be and I enjoy it (well, not all of it). You might also be able to tell who in this relationship is the trained historian (hint: she's writing this post). However, at the end of the day, we're both most interested in making sure the wedding is "us." Not some Pinterest-version of us or the fairytale version of us, but genuinely a party we and our guests will enjoy because it has things we like to do.
Using that as our guiding principle, we have definitely bucked tradition. We're getting married outside by a secular officiant. I'm walking down the aisle to a song from Cinderella (ok, so I got a little bit of Cinderella at my wedding!) and our friends are walking down the aisle to a Beatles song. Our overall theme is Parks & Rec, which you'll see scattered throughout the ceremony and reception. And we're having a brunch reception with board games as entertainment. If we were just guests at this wedding, I think we would have a blast!
On Embracing Tradition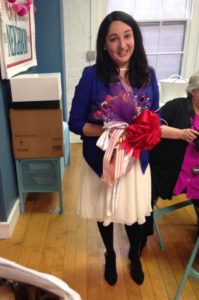 As my fiance mentioned, I have done research into wedding traditions. And despite our bucking of many traditions, we have embraced some that make sense for us. The ceremony is fairly similar to most others and we even included a reading. We have a bridal party and my bridesmaids and friends hosted a bridal shower for me. My mom has been pulling together something old, something new, something borrowed and something blue.
I think the key for us is that we're using traditions that align with our values. Having a bridal party means we are surrounded by our friends and family. The bridal shower was a fantastic way for me to see my St. Louis friends since I recently moved to Cincinnati. And I think in particular, having a familiar ceremony will allow family to feel comfortable.
Nerdy Elements
This wedding wouldn't be us without nerdy decor. We have prints and posters from Parks & Rec as well as some hidden elements that only true fans would know. Such as the advertisements in our wedding program that highlight businesses from the fictional Pawnee, Indiana. The park we are getting married in is called Lafayette Park and there's a Lafayette Park on the show. As you can see, we added subtle nods at our nerdy interest, but nothing that would make our friends or family feel uncomfortable.
Sharing the Love
Chris and I long ago realized this wedding was not just about the two of us. It's also about our dear friends and family coming together to support us. In that spirit, we have catered the entire weekend around that theme. We have a welcome dinner planned and I have created wish bracelets for all of my friends that are not in my bridal party. All out of town guests receive a welcome bag with information about St. Louis and the weekend events. While all of this seems fairly standard (after you've read a million wedding magazines), I think it reflects our goal of making this weekend family and friends oriented.
Feminist Wedding?
I can't tell you how many times I googled "feminist wedding" during the early stages of planning. As a feminist and someone in love, I worried about sacrificing my identity to the wedding industrial complex, especially because wedding traditions are deeply ingrained by the patriarchy. Many of the articles I read emphasized exactly what my fiance and I had already done – focus on doing what the two of you want to do, not always what is expected. But also to forgive yourself if you want to do something that might not feel completely feminist to you. Along the way, I also learned to seek out online communities that were supportive, not judgemental, such as the fabulous Offbeat Bride and, surprisingly, the Wedding Planning subreddit.
My wedding is in 24 days and I can't wait. If you can't tell already, I'm a planner, so basically everything is done AND I know it is very much "us." I can't wait to share that day with our friends and family.
If you're planning a wedding, or planned a geeky wedding, share your tips in the comments!
Carolyn is the Founder & Executive Director of Super Heroines, Etc. She is a recent transplant to Cincinnati and lives with her husband and her dog. She regularly nerds out about Parks & Rec, Firefly, and Pride & Prejudice.