'Tis the season for gift-giving! With the number of sales, promotions, and emails from a variety at this time of year, there's a lot of gift options for your geeky family and friends. That's why we've pulled together a list of great gifts for your friends, family, coworkers and more.
If shop at all on Amazon, please use AmazonSmile to support Super Heroines, Etc. while you shop!
Books
Good Night Stories for Rebel Girls
Recommended by our awesome blogger Lisa Higel-Pavia
This project from Timbuktu Labs started as a Kickstarter that quickly raised more than ½ million dollars. After learning that only 7% of children's literature featured female protagonists, the authors decided to assemble the stories of 100 of famous women to share with young children. Each story is written as a fairy tale and is beautifully illustrated by female artist from around the world.
We received our print copy (and hid it in the closet for Christmas!). The print version is certainly worth the price tag. This will make a wonderful gift for any geeklet in your life. Oh! And if you support the Kickstarter, the stretch goals they've now set will provide workshops in Rwanda for female leadership.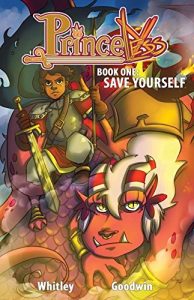 Princeless Graphic Novel
Recommended by our awesome blogger Lisa Higel-Pavia
I have a very girly girl. She digs all things princess. So when my local comic shop folks (http://www.fantasyshoponline.com/south-county-calendar/) recommended Princeless and Another Castle we jumped at the chance. Princeless is the story of a father who has imprisoned all of his daughters in dragon guarded towers to help find his successor (finding his own son too wimpy). When the youngest daughter is taken, she sneaks a sword along and escapes, deciding she needs no saving-thank you very much. Her dragon sidekick and dwarf-blacksmith/reasonable armor designer companion make this an excellent tale of girl power. There are currently two trades available!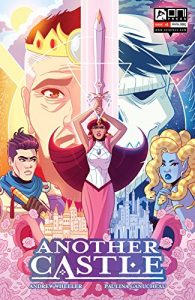 Another Castle Graphic Novel
Recommended by our awesome blogger Lisa Higel-Pavia
Another Castle is a similar tale. This time, a princess is kidnapped and taken to a monstrous kingdom, just like her mother who died at the same hands…or so we think. She decides to help the residents and awesome ensues. Another Castle is currently on issue 5!
Also, please support our geek spaces and get these from your local comic shop!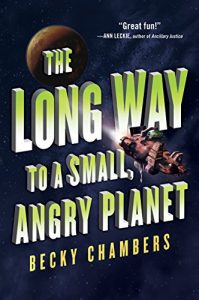 The Long Way to a Small, Angry Planet
Recommended by our awesome blogger Lisa Higel-Pavia
If you are feeling blue this season, you need this book. If you loved Firelfy, you need this book. If you are hankering for a space adventure tale with miles of heart and humor….you…probably get the picture.
Becky Chambers has written an awesome story which features a truly multispecies crew on their journey. In this case, the story has little to do with where they are going, or what they are doing, but rather who the characters are.  Normally, stories that are light on plot bother me, but the thrill of this story is not just getting to know, but really experiencing the characters and their own personal lives.
The story follows Rosemary who is fleeing a troubled life on Mars. She signs on to a tunneler ship, which punches holes in space creating stable gateways for interstellar travel. On board she meets a collection of characters who are altogether awesome and authentically diverse. Along the way they face down bandits, muddle through multispecies misunderstandings, and deal with loss. If you have what we, in our little circle, call "chosen family" you'll find a lot of warmth in this book. Also, the writing in this is snappy and very wheadon-esqe.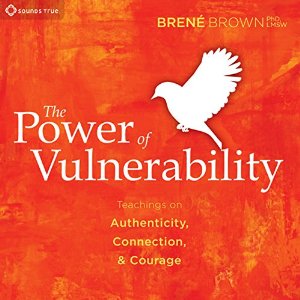 The Power of Vulnerability
Recommended by our Executive Director Carolyn Noe
I'm not always into self-help books, but this audiobook is amazing. Dr. Brene Brown is a shame researcher, which sounds terrifying, but allows her to share awesome insights into living what she calls a "whole-hearted life." While that may sound fairly cheesy, her charming anecdotal stories are backed up qualitative research. This is only available via audiobook, but her book Daring Greatly also has great reviews if you prefer to read rather than listen.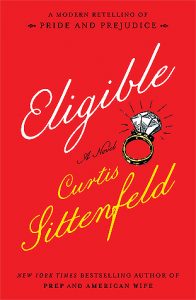 Eligible: A modern retelling of Pride & Prejudice
Recommended by our Executive Director Carolyn Noe
Written by St. Louis native, Curtis Sittenfeld, this retelling of Pride & Prejudice is part of a series of modern authors retelling all of Jane Austen's novels. While a bit unconventional, this remix is a biting commentary on modern-life, much like the original novel. It also features my new hometown, Cincinnati!
Apparel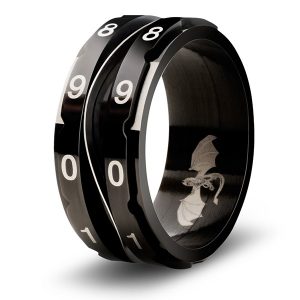 CritSuccess Counter Ring
Recommended by our President Fox Smith
Finally a way to combine the most natural pairing: jewelry and table top rpgs! These metal clicking counter rings will keep track of anything you may need from zero to ninety-nine with style. They come in a variety of colors from black, to blue, to gold, to, yes, rainbow. Also featured on CritSuccess are spinner d10 rings, hit location rings, and much more!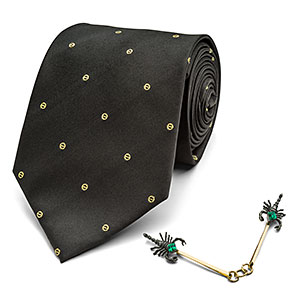 Fantastic Beasts Percival Tie and Pin Set
Recommended by our President Fox Smith
For the tie-wearer in your life, this classy tie will set any discerning witch and wizard apart. Featuring a scorpion pin to complete the look.
Tee Turtles Shirts
Recommended by our awesome blogger Lisa Higel-Pavia
Tee Turtle's website is a quality timesink! The thing that makes them special are not just their wide array of adorable t-shirts and plushies, but the fact that they have kids sizes AND (just in case you're looking for yourself…) the best women's sizing I've ever seen. The Women's Relaxed fit is cut so that the shirt doesn't look like it was made for a toddler, nor does it appear to be trying to overwhelm you. The shirt quality is also marked better than your average cheap shirt site. Watch shipping times though. They can lag.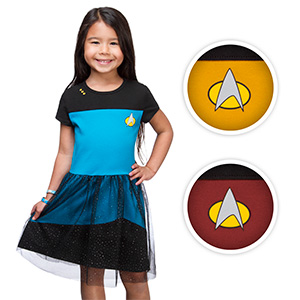 Star Trek TuTu Dress
Recommended by our awesome blogger Lisa Higel-Pavia
This is a sparkle tutu dress with a TNG style uniform body….this needs no review….just go get it…the only bad thing, they don't make them for big girls. If you're looking for something equally cute, check out this Star Trek ships dress for adult women.
Plush Unicorn Heated Footwarmer Slipper
Recommended by our Executive Director Carolyn Noe
We won't judge you for ordering these for yourself, but we think these are the best option for your unicorn-obsessed bestie or anyone who always has cold feet (read: me). They heat up using USB-power and come in pink and purple.
Misc.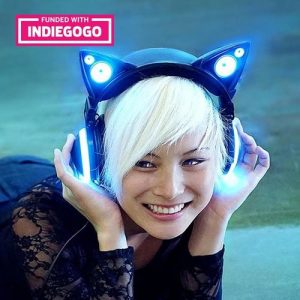 Axent Wear Cat-Ear Headphones
Recommended by our President Fox Smith
A must have for any cat (or fox) loving gamer or music aficionado, these crowd-funded headphones are the perfect combination of kawaii and chic. Featuring a comfortable over-the-ear design with lights on both the ear cups and cat ears, a mode to share music with friends via the cat ear speakers, and a removable boom-mic, there is little not to love with these headphones. The sound was pretty immersive, and the thick ear cup padding makes for a comfortable wear for extended jam/gaming sessions.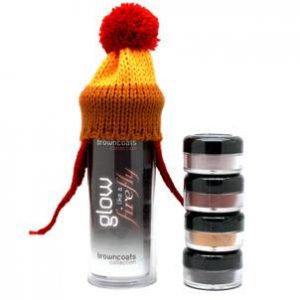 Espionage Cosmetics Browncoats Collection
Recommended by our President Fox Smith
Cruelty-free and geek inspired, Espionage Cosmetics has literally made it their business to bring you envy worthy mineral powders, manicure decals, and geeky boutique goodies. Inspired by one of the best shows in the 'verse, the Browncoats Collection features mineral eyeshadows in shiny tones from Mrs. Reynolds to Reaver Red. As a bonus, the set comes with a miniature cunning hat.
Did you find great gifts on this post? Have you found other nerdy gifts you think folks should know about? Share your thoughts in the comments!
Carolyn is the Founder & Executive Director of Super Heroines, Etc. She is a recent transplant to Cincinnati and lives with her husband and her dog. She regularly nerds out about Parks & Rec, Firefly, and Pride & Prejudice.